Gry and FM Einheit in America


The former band member, F.M. Einheit, has been on tour in America with Pigface, which is a band with quite a lot of changing members. Some of the people who has been in Pigface are: M. Cira (Swans), Trent Reznor (N.I.N.), Genisis P. Orridge (Throbbing Gristle), Flea (R.H.C.P.), Martin Atkins, Paul Barker and Shonen Knife.


MUFTI WITH PIGFACE IN PORTLAND
March the 18th.
-by Tracy:
Onstage was Mufti, a female vocalist whose name I didn't catch, and a young male bass player. Mufti had his soundboard and a large coil mounted on a metal rod which he would tap upon with drumsticks. The music was very danceable and alot different than most of E.N. or the other projects I have heard as well from Einheit. The vocalist had a very rich and pretty style of singing. They only played about a half hour compared to Pigface which played about an hour and a half. The entire show was extremley fun, a couple of my freinds who are in a fire breathing troupe here in Portland performed with Pigface, turning the tiny club into a virtual inferno of craziness. It was very impressive, one of the most enjoyable shows I have been to in a long time.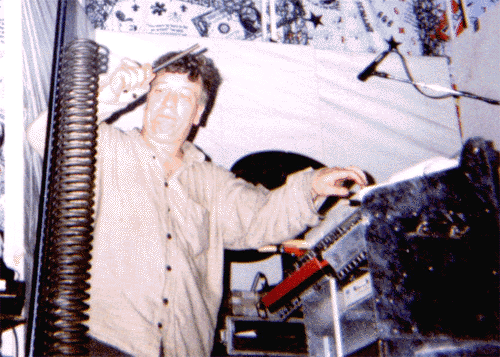 A supplement to Tracy's contribution:
-by Jon
On April 7, I saw Mr. Einheits new band, who were absolutely amazing, during a stop in Toronto during the Pigface tour.
To add to the review you already have, he was also accompanied by a drummer (with a REAL drum kit!), and Einheit also had one drum piece in his arsenal. All in all, the band is definetly worth keeping your eyes and ears open for. I also grabbed the setlist (having a spot right in front of Mufti really helps in this department). For the record, the setlist was
1) Wieder Schwab
2) Intro
3) Invaders
4) Poles Apart
5) Dybet
6) Touch of E
I also met Mr. Einheit after the show, and I am happy to say that he was an absolute gentleman!! He said that he is planning to release an album in June or July. Definetly something for all Neubauten fans to look forward to!