REDE/SPEECH EXTRACT EXCLUSIVE
in KafCafeen, Copenhagen,
18th. April 1999.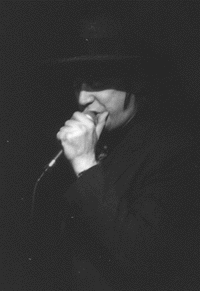 Hyggeløgn

There is something very charming about foreign people trying to speak your language. And Blixa speaking Danish is no exception.

Blixa was invited to Copenhagen by the Goethe Institute to take part in a "Dansk-Tysk Lyrikertræf" (Danish-German Writers Meeting). This event took place on a Sunday afternoon. Besides Blixa two Danish writers, Janus Kodahl and Niels Frank, participated. The Danes were first on the stage and after their shy readings of excerpts from their published works, it was obvious how much of a stageartist Blixa is by comparison.

Blixas introduction, the announcing of four Danish words, made the audience smile and he won everybodys sympathy right away. Blixa kept his entire part in English and Danish, he only spoke one word German: when he told us that he understood that "hygge" means something close to "gemütlichkeit".

3 fights, between 4 Danish fighters, were about to take place. The ring ("which is a square") consisted of four corner-beats, sampled and looped. The 4 Danish fighters, whom Blixa had chosen in advance, were:
Forundring (astonishment),
Tvivl (doubt),
Løgn (lie) and
Hygge (cosiness).

The first couple to take a round was Forundring ("in yellow pants and yellow top") against Tvivl ("in green pants and grey top, which is very unusual"). In the beginning Blixa accentuated the second syllable in Forundring ,"un", and in a slightly higher pitch, which makes the whole word make sense. First round ended with a (small) victory to Tvivl.
Second round began very melodically, but ended up sounding like insects. By the time of the third round Forundring had undertaken a complete change of character, gone was the wondering, the tone was sharp.
A hot-tempered astonishment?

The next couple was Løgn and Hygge. "Hygge in the brown pants, unbeaten for decades" said Blixa. And this is true: Danes are very proud of being a people who likes "hygge" to be their national characterisation. The Danish hygge can sometimes get a bit lazy, but Blixas had plenty of energy and fervour. The worthy opponent was Løgn, who had an accusing tone to it.
Now a very interesting phenomenon occurred: the two fighting parts joined eachother and formed one allied force: Hygge-Løgn. Those two words are never used together, but the sound of them actually suit eachother very well, and the effect of making a contraction of two so different words is extreme.
No winner could be found for this round.
In the last round Hygge showed more power, also if you notice: Hygge was already leading in the first round, the name of the allied force was
Hygge-Løgn!

The final battle stood between the semi-finalists Tvivl and Hygge. In the first round Tvivl was "showing a lot of power, while Hygge was hardly making a move, standing like a rock". Next round was a raw and windy version, the H in Hygge elongated into a howling wind.
It was, as so often before, difficult to find a winner, this time Blixa would let his equipment decide the final result.
While the jurors were voting, Blixa would like to have a cigarette - clapping his suitpockets, no cigarettes - he ended up asking a woman at the first table, who had just lit a cigarette, if he could have hers. She was about to give him a new one, but he seemed quite satisfied with hers slightly used one.
Blixa returned to the ring and stepped on the foot-switch, which came up with Tvivl as the winner of the day. The surprise was overwhelming, nobody would have expected Hygge to get wiped out like that. I still can't accept it, I'm sure that there was some kind of fraud in the deal.

Blixa had already left the stage before the applause ended and he thanked from the bar with a smile and a bow. People had had a surprising experience, I'm sure. I think it's very brave of Blixa to come invited as German writer, and present a show in English and Danish. You might argue that he had misunderstood the idea of the meeting, but he does it in such a professional manner. And you realise how much it is the man himself, who is
"Deutsches Kulturgut".



Photo by Lene Piasecki