Headcleaner - all you need is...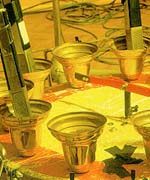 "'Headcleaner' is the substance used to clean the heads in cassette recorders, etc. It usually just consists of rubbing alcohol (Isopropyl Alcohol). There's therefore nothing especially mythical about it, but in my text it takes on a mythical dimension, becomes a mythical substance. A political substance."
- Blixa about "Headcleaner".

Blixa also describes "Headcleaner" as "a metaphor for a mystical substance, a universal solvent, the Philosopher's Stone in liquid form...an alchemical substance."
- We're back at the Alchemists.

Tabula Rasa - (lat.: tabula=table; rasa (past participle of radere)=scratch) The Romans used wax tablets to write on with an iron slate pencil, and after use they would scratch out the writing. Also Tabula Rasa means blank page, make "clean table"; and the human mind before it has received any impressions.

Headcleaner is "a battlepainting" consisting of following parts:
I. Zentrifuge
Stabs
Rotlichtachse
Propaganda
Aufmarsch
II. Einhorn
III. Marschlied
Das Gleissen
Schlacht
IV. Lyrischer Rückzug


Originally Headcleaner was a 45 minutes long performance called "Das Auge des Taifun" directed by Heiner Müller. The performance was made for the 300 year jublilee for Akademie der Künste in Wienna and took place along the "Wiener Ringstrasse". Einstürzende Neubauten was being transported through the performance in a special-designed vehicle. Blixa was to participate with the lyrics, but Heiner Müller would supply him with texts, that could might be useful. From these texts Blixa incoorporated a text by Adalbert Stifter, an Austrian author (1805-68), a text about the journey into a frozen forrest. And a translation of a part of a letter from Plinius the Younger to his uncle Tacitus about the eruption of Vesuv. LYRISCHER RÜCKZUG.


MARSCHLIED Furthermore Blixa involved the Beatles song "All you need is love". This time even adding the original recording. At first it's not so obvious, because the Beatles introduces their song with "La Marseillaise", the French national hymn since 1879. Writen and composed by the officer Joseph Rouget de Lisle in 1792 as a revolutionaryhymn. It was song when volunteers from Marseille occupied Paris. It is a a march, why it fits Headcleaner. Maybe the Beatles choose the Marselillaise because they wrote "All you need is love" especially for the first worldwide TV broadcast via satellite, "Our World", which was sent from Paris on June 25, 1967. 14 countries contributed and 23 countries watched. "All You Need Is Love" was the UK contribution and was recorded live. Blixa has changed the lyrics in a most delicate way, I have arramged the two versions set up to a comparison: ALL YOU NEED IS LOVE / HEADCLEANER.

DAS GLEISSEN consists of a 440 Hz sinewave and a 444 Hz sinewave played simultaneously, to represent a struggle between the Wiener and the Pariser academies.



HEADCLEANER
Lyrics by Blixa Bargeld

Silence!

Generalmobilmachung!
Zwecks Dekonditionerung aller!
HEADCLEANER!

Nehmt Aufstellung!
Achtung! Unberechenbar ab Marsch!

Neue Wunder, neue Schrecken
Tornado für die Bindungen an Konvention
Für die Windungen
im Schädel, Wirbelsturm
als HEADCLEANER!
Kratzbürztend das Modergewürm!

Geronnene Gedanken, gefrorene taut auf
mit HEADCLEANER!

Hinter uns das All
Mit uns die Gemeinheit
gegen die Allgemeinheit
ist jedes Mittel recht
und billig nur das Mittelmass

Aufmarsch der geschlossenen Abteilung
Allen voran die drüberen Asketen
vollgepumpt
mit HEADCLEANER!

Es folgt das wilde Fußvolk
im Kopf nur:
HEADCLEANER!

Die hälfte meiner tr&aum;ume ist kahlgeschoren
gewalt
warten
das erste treten gegen die tür
oder
der erste von offizieller seite
mit fragen
ein streichholz quer in meinem hals
kein satz
durch meine kehle
der nicht
brandsatz wäre
nicht warten
komme ungeschoren davon
soweit die träume

Ein Lied, zwo, drei:

'Cause nothing has been done that can be done
And nothing has been sung that can be sung
And nothing has been said so forget how we play the game
It's easy

Nothing has been made that can't be made
And noone has been saved that should have been saved
And nothing you can do but forget yourself in time
It's easy

'Cause nothing has been known that isn't known
And nothing has been seen that ain't been shown
Nowhere you can be that isn't where you're meant to be
It's easy

"All you need is HEADCLEANER!"

Das Recht zu kontrollierten Rasereien,
ein Spähtrupp, mit kosmischer Verruchtheit,
nimmt es für sich ein.
Er tränkt die Disziplin
in HEADCLEANER!
Letzte Windmaschine vor der Schlacht!
Hier fegt die Sturmabteilung aus
mit Hurrican
Tiefenreiningung - Auf Wiedersehen!
Zwischen grauen Zellen und in den Ecken
Wo immer Fungi sich verstecken
Sie machen Garaus
Es ist zu spät
Es wird Salve gegrüßt und niedergemäht
mit HEADCLEANER!
TABULA RASA!
TABULA RASA!
TABULA RASA!
HEADCLEANER!

dieses steht in flammen, jenes is
zusammengestürzt.

heftiger und dichter aschenregen.

aufgelöst in rauch und nebel.

es wird hell, was aber nicht der tag,
sondern herannahendes feuer; bleibt in der
entfernung: die finsternis kommt wieder.

die sonne kommt, trübe sonnenfinsternis.

alle gegenstände sind mit asche, wie mit
schnee bedeckt.

wir aber, die jetzt die gefahr kennen,
und solcher gegenwärtig sind, können uns
auch jetzt nichts entschliessen...