Salamandrina - du wirst niemals vom Feuer verzehrt.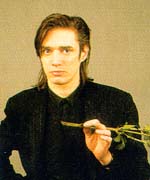 "All the bits and pieces from basic mythology - all there! But the first word is "Not". "Salamandrina" is, in the text of the book, the transition to the symbol of fire. Every element contains a living thing, the salamander lives in fire, and the female form is the salamandrina. I didn't invent any of this. And as I wanted to make the whole album in honour of the female creature - most of the texts in "Tabula Rasa" are either written from a female perspective or directed toward an invisible opposite partner - there's the connection. Fire is a transforming medium."
- Blixa about "Salamandrina".


~
The Salamander is one of the elemental spirits along with sylphs, gnomes and undines, those are identified with natural forces, that inhabit respectively fire, air, earth and water.
Salamandra is also the Alchemists word for Asbestos. A quote from "Illustreret Videnskab #2, 1998.": "Asbestos came from fire-proof lizards. In the first century after Christ, the Greek geographer Strabon describes an asbestos quarry. Here the stonefibers were spun and weaved to fire-proof clothing. For some reason this knowledge about the true origins of asbestos was forgotten in the Middle Ages, and the alchemists of the time began to discuss the fascinating material. They came to the conclusion that asbestos was the hair from a lizard, which could not burn, and they gave the asbestos a new name: Salamandra. It was Marco Polos reports of an asbestos quarry in China, that thrusted a pole through the theory of the mystical woolly fire-proof lizards."


~
IN GIRUM IMUS NOCTE / ET CONSUMIMUR IGNI

"Salamandrina" is the song in which the promised palindrome is hidden!

I've been very curious to know if Blixa actually has made up this palindrome himself, or if it has existed for ages? And if Blixa has merely found it somewhere, then I'm curious where?

I've received a piece of information that suggest that the situationist Guy Debord is the creator of this palindrome. Guy Debord is the director of a film with that same title. But so far, I haven't found any evidence what so ever that Guy Debord is the creator of the palindrome itself. Maybe he, just like Blixa, merely found the palindrome somewhere else and fell for it's mystery in symetric letters, and then used it for his film. There is also the possibility that Blixa actually has the palindrome from watching Guy Debord's film.
The film by Guy Debord: In girum imus nocte et consumimur igni


~


SALAMANDRINA
Lyrics by Blixa Bargeld

Salamandrina Salamandrina Salamandrina

Nicht Nixen, Nymphen, Sylphen, Elfen,
Musen oder Feen
Für dich will ich die Motten versteh'n
die können nicht widersteh'n
Für dich bin ich ein Phoenix nur,
Geschichte ist bekannt
nur immer wieder, nimmer, nimmer nichts
dazugelernt


Salamandrina Salamandrina Salamandrina

Zunächst leg' ich die Hand ins Feuer
und zieh mich daran rein
dann verzehren Flammen sich
und ich werd' eine davon sein


Salamandrina Salamandrina Salamandrina

IN GIRUM IMUS NOCTE
ET CONSUMIMUR IGNI
Wir irren des Nachts im Kreis umher
und werden vom Feuer verzehrt


Salamandrina Salamandrina Salamandrina
Du wirst niemals vom Feuer verzehrt
Salamandrina Salamandrina Salamandrina
Du wirst niemals vom Feuer verzehrt


Add suggestions or interpretations in the guestbook