Tabula Rasa Riddles

für dich will ich die Motten verstehen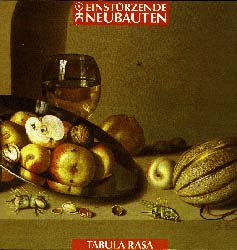 I began this specific search for Tabula Rasa riddles after reading an interview with Blixa about the Tabula Rasa trilogy in which he says:
" I have embedded perhaps a dozen puzzles into the record, with all the clues an intelligent person needs to solve them. I know our material seems more accessible, but that is only on the surface. It remains elitist and hermetic underneath. Why do we have a song called "Zebulon"? One of the songs is a palindrome. Did you know that if you take the first letter from each of the songs we have ever done it spells out the true meaning of the universe?"
(At this point the interviewer goes:"Really?" And Blixa answers:"No".)

I've got some suggestions to tasks and riddles and an interpretation, or an explanation and even a solution to some of them. I am well aware that Blixa uses words and phrases as a "personal metaphor", i.e. Blixa probably has some personal reason for giving a song the title "Zebulon" and I am only able to find the original definition of the word. Sometimes that adds something to the text. In other cases it has just been an interesting research with more common knowledge in result. Enjoy...

Add ideas and interpretations in the guestbook